Hey guys!
Today's Fierce Friday's going to be interesting.
Instead of re-creating today's latest hype, I'm going back in time.
Old Hollywood has always been something of interest to me,
The perfect pin-curled hair, popping eyeliner, and dramatic red lips, what else do you need?
However, if you went out in the day with this look- you might get some glances,
and probably not the good ones. So to refrain from these stares, wear this look a night.
Also, today's look is going to be a full face tutorial, so blush and foundation are used!
Your going to need:
-Black eye liner (Preferably liquid, but I used kohl)
-Red Lipstick
-Pearlish-White eyeshadow (10 Ivory Slipper, Satin)
-Dusty Green Eyeshadow (71 Enchanted Forest, Shimmer)
-Light rose/pink eyeshadow (47 Nude Fresco, Satin)
-Dusty dark rose blush (13 Rosewood)

Before
Glamification:
1) To begin start applying your black eyeliner on your top, and bottom lash line (I used a eyeliner pencil for this look, but liquid is better for the top lashes, use a pencil for waterline and bottom lash line) for added effect, apply the liner on your waterline. Make sure to slightly wing out your liner like a cat's eye.

2) Sweep on a pearly white eyeshadow on your lids. For the eye colors today, I used Estee Lauder's eyeshadow and blush trio in Pure color. The white is number 10 Ivory Slipper (Satin finish)
3) Apply light rose eyeshadow (47 Nude Fresco) carefully in your crease using a windshield wiper motion. Make sure to use a
light
hand when applying the crease color.
4) Carefully put a little bit of of the green eyeshadow (71 Enchanted Forest) on your crease line. This will add an ever-so-slight definition to your eyes, and make the colors pop!
--- Optional, apply your favorite Mascagni, I did. But you don't have to! Mascara wasn't as big as it is now then.
(Yes, that is the same picture, but for some reason I didn't take one of the rose/white by its self! Oops!)
5) Dust on a darker rosy color onto your cheeks such as number 13 Rosewood. If you look at old Hollywood makeup pictures, the blush used is usually always a dark rosy color! The reason why? - It defines your check bones, and makes your face look slimmer! The big fad back then!
--- Optional- I used my regular foundation with this look- Mayballine's Dream Smooth Mousse in 255 Natural Buff.
---- Optional, also, if you look at old Hollywood pictures, their faces are usually tinted white. I didn't, but if you really wanted to go full out, swipe some matte, I emphasize
matte-
You want your face to be tinted white, not full of shimmer- white eyeshaddow over your face. This will give you the slightly white looking face! Totally '40s
6) Put on your favorite red lipstick! Make sure it's matte! Have you ever seen Marilyn Monroe with sparkily red lips?! ( My camera ran out of power, so this picture isn't of me, but you get the idea :) )
And there you go! Just like Marilyn Monroe :)
I hope you guys love this look! And, if you want to get the Hollywood glamor without the negative stares, replace the dramatic black eyeliner with a subtle shimmery brown, and rose blush for a soft peachy-pink. The red lipstick is up to you, but you could also replace it with a nice brownish-pink gloss or lipstick.


Weekly Rate:

Today I thought it would be appropriate to review the same quad I used for this look! Estee Lauder's Quad in Pure Color.
This comes with 3 eyeshadows and 1 blush. They are all pretty colors but not really my tipe.. I would never use this harsh brown/rose blush for anything but this tutorial (It matches so perfectly!) All the colors are very well pigmented, but not the best I've seen. They last extremely well and do not flake or wear off at all! The white and rose are the softest eye colors, and easiest to apply, however the green is not as soft and easy to apply, but stays on just as well.
I honestly don't think I would use these colors as much as my other eyeshadows even though they are pretty. Even though I am a very mature person, my makeup doesn't always need to be mature. I think these are more of "Old Lady Colors" I
hate
that term, but it honestly looks like colors my grandma could wear. I think these colors can be ah-mazing on (Like I think they're
perfect
for this Old Hollywood Glamor look) but they could also take a wrong turn down old-ladyville. And we
don't
want that to happen. So I would give this quad a good 3.5 out of 5.


Weekely Rave: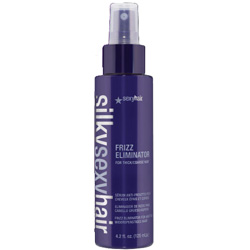 My absolute favorite product this week has to be Silky Sexy Hair's Frizz Eliminator for thick/coarse hair (because I have crazy frizzy thick hair!)
This to die for hair product does exactly what it says. It makes all your frizziness go away! It's seriously magic! It's a need it I don't feel like flat ironing my hair (and my hair is naturally super curly and filled with fly-aways!) it slightly calms my curls and kills all the frizziness! It also adds a natural looking shine and gloss to your hair! It's also really great for when you do straighten your hair, and you want to make sure that all the frizziness is locked in for a whole day full of silky sexy hair :)


Love you guys!
Have a great weekend,
and Fierce Friday!
xoxo,
Sydney!